Plan Your Staycation for This Summer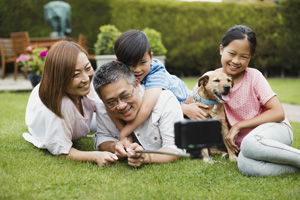 The COVID-19 pandemic may have you rethinking upcoming vacation plans. Airlines have already cut almost 90 percent of flights for the summer months, indicating that many individuals and families have canceled their travel plans for the next several months.
Instead, people are considering staycations for this summer, or planning shorter outings closer to home. For those affected by ADHD, a staycation can be both relaxing and an event to be anticipated.
Summer camps may be canceled—or online
Most summer camps, both sleepaway and day programs, will not be offered this year. Parents and caregivers who have already made reservations for their child can contact the program managers and find out if their camp will still be held and what health and safety measure will be in place. Some camp and enrichment programs are planning online formats.
Virtual summer camp programs are becoming a popular alternative. They can provide a variety of enrichment activities for children that move beyond the webinar concept.
"Many parents are exploring virtual camp as a viable alternative given the uncertainty of our collective public health reality," writes Dana Brownlee. "Admittedly, virtual summer camp is a radically different concept, but then radically different seems to be the new normal these days. Arguably, one key to thriving during this difficult time is to not expect perfection and instead learn to adapt to an admittedly suboptimal reality. Online camps may indeed fall into that category—certainly not the number one choice but given the scant options this summer, an amazing second choice."
ADHD and a summer at home
What activities and interests do you or your family members enjoy? Taking ADHD symptoms into account, does the length of an activity or outing matter? How about variety or predictability? Creating a list of general activities (hiking, bike riding, fossil hunting, arts and crafts) along with personal interests (history, baking, dinosaurs) can help you create your staycation plans.
For some families, staycation plans will encompass the two or three summer months when children are normally out of school. Other families will want to focus on one or two weeks that all of the family members can be together. The goal of both approaches is to spend fun and relaxing time as a family.
"The point of a staycation is to make it feel as much like a real family getaway as possible, without leaving the comfort of your own home," writes Ruth Soukup. "Start with deciding exactly when your vacation at home starts and ends, and then set a few guidelines for what your family may and may not do during this time."
Those guidelines can help you stay on an ADHD-friendly schedule while guarding this time from the pressures of work or errands. Ms. Soukup suggests limiting electronics, setting aside home maintenance, and planning easy-to-make or take-out meals.
If you're spending the summer on your own, planning a solo staycation is just as important. Prepare or order in your favorite meals, schedule a night of movies or television shows you've been wanting to watch, and look up local getaways. Singles and couples can attend daily events, go on day trips, or take online courses in a favorite hobby during their at-home vacation. Making time for your needs without the pressures of work can help you feel rejuvenated.
Ideas for your summer
Just as you would make your travel plans and schedule outings on vacation, create your staycation plan by "booking" time for the things you would like to do. Keeping in mind the need for social distancing as well as movement, you may want to schedule daytrips to local parks or historical sites. Many of these locations offer picnic spots along with open spaces for play.
Ideas for days at home can include:
Online baking classes
Virtual tours of museums
Backyard "beach days" and picnics
Geocaching in your neighborhood
Movie nights
Virtual fun runs or walks. Gone for a Run offers several to choose from.
Day camping at either a local park or in the backyard
Board game tournaments
Make something—do arts and crafts or build a go-cart, clubhouse, or other fun projects
"Just like a real vacation, the more you plan for fun, the more successful your staycation is likely to be," Ms. Soukup says.
Planning daytrips
Experts expect that families and small groups of friends will break up their summers at home with a few daytrips. These outings can be visits to state parks and history sites, along with outdoor tourist attractions. Most locations will have new guest requirements, such as wearing masks, so be sure to check before you go.
"More than 250 parks have remained partially accessible throughout the pandemic," says National Park Service spokesperson Kathy Kupper. "While they and other parks are increasing recreational access for visitor enjoyment, the return to full operations will continue to be phased, and services may be limited."
ADHD symptoms don't take the summer off
Keeping a schedule and treatment plan for ADHD can make a difference for you or your family during the summer. The same ADHD symptoms that are problematic during the rest of the year are with you or your child during the summer. If you feel this is the time for a medication holiday, discuss this with the treatment provider.
Activities during your staycation can be created to play to specific interests while taking symptoms into account. Building in both variety and downtime are important, as is creating time to simply enjoy life.
"As you indulge in the fun that your town has to offer, remember to schedule in some downtime to read, relax, sleep in, lollygag, and do all the things people really like to do on traditional vacations," says Elizabeth Scott. "The idea of a staycation is to feel like you've had a break, so be sure you get one by adding in time for rest. Just balance it out with fun activities, too."
Summer planning helps:
Join the discussion: What are your plans for a summer staycation?