Students with ADHD Adapt to Online College Courses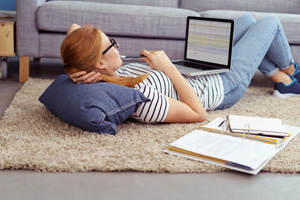 College students and their families have questions about the upcoming fall 2020 semester, based on the effect the novel coronavirus pandemic had on the just-concluded spring semester. Many students want to know if they are going back to campus or if classes will be entirely online, or some combination of in-person and online instruction.
Following the federal recommendations in March, colleges and universities closed campuses and moved almost all instruction to online platforms. Students who previously attended in-person classes, including those with ADHD and learning disabilities, often found the abrupt switch to be difficult.
"For me, I don't do well with a lot of online things," a student at a Pittsburgh, Pennsylvania, university says. "Being there in person [makes it] easier for me to concentrate."
A Chronicle of Higher Education survey found a majority of college and university administrators are hopeful about returning students to campus, but more than 40 percent, the largest responding group in the survey, don't know when students can actually return to campus life.
For college students with ADHD, this presents some unique challenges.
Online instruction for students with ADHD
College, university, and technical students who have ADHD already face several challenges in their learning environments. For many, the supportive scaffolding from high school has fallen away and they are navigating academic demands, social relationships, and learning to follow a schedule without oversight on their own. Having the accountability of attending classes in person is helpful. Others receive support from the campus office of disabilities, which can include tutoring, notetaking, and some academic coaching.
Off campus, and often in their family homes, a lot of that accountability is not present. It can be easy to slip into old habits or to fall out of a routine altogether. The lack of novelty and variety of experience that people with ADHD find exciting can also make it hard to stay on task, and they become bored more easily.
"It's never going to be the same as being in the classroom," a student from New York City says. "It's a lot harder to focus, especially in a long class. What gets really difficult is having classes back to back. Normally, between classes, you have that break to move. It's kind of different when you're just sitting in your room the whole time for hours straight."
While some students struggle, other students find the flexibility of online education to be a good fit for them because of their ADHD symptoms. They are able to watch classes in more manageable chunks of time and to review information on recorded webinars multiple times. They can also engage in their classwork during the times of the day that they feel most alert and ready to learn.
Successful online learning
Students who plan to take classes next fall should stay in touch with their schools during the summer. If they have accommodations on campus, or will need them, they should also discuss with the school's office of disabilities how those accommodations can apply to online courses.
Students might also consider working with an academic coach, either through their school or contacting one independently. The Edge Foundation and the ADHD Coaches Organization maintain professional directories of academic coaches who work with students with ADHD.
Southeastern Community College in Whiteville, North Carolina, has helpful suggestions for students taking courses online:
Structure your time. Flexibility is an advantage with online classes, but it requires time management.

Add major assignments to your calendar and schedule enough time to complete your projects on schedule.
Make sure to keep your calendar updated. Start a practice of checking it first thing every morning so you don't miss important assignments and deadlines. Use your calendar to create a daily to-do list and keep that list handy.
If you have flexibility with class scheduling, take your classes during a time when you will be most receptive.

Set goals and be accountable. It's great to have an instructor who sends reminders, but it's best not to be fully dependent on that and set your own reminders. Find a classmate and become digital accountability partners. Alternatively, work with either an academic coach or a friend or family member who can help you break apart assignments and stay on track.
Manage your environment. Set up a spot free from distractions, noise, and clutter. Turn off your cell phone or place it out of sight.
Take advantage of resources. Video chat with classmates to keep that class connection intact and work collectively on projects, if possible.
Communicate. Your instructor is ready to help you. If you are struggling with a lecture, don't hesitate to contact your instructor for help.
—Adapted from Online Learning during COVID-19
Resources for at-home learning:
Join the discussion: What would you suggest for the college student taking online courses?