Ready to start your career?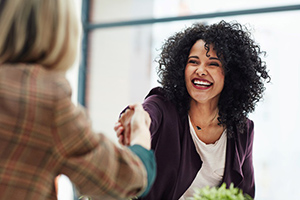 You―or your young adult son or daughter―may be entering the workforce this season as a recent high school or college graduate. For young adults affected by ADHD, this new opportunity in adult life brings challenges to succeeding in their careers.
Many young adults with ADHD enter the work world unaware that they can ask for support if needed, and that they must take the initiative to arrange workplace accommodation, says CHADD Professional Advisory Board Co-Chair Craig Surman, MD. Dr. Surman is an assistant professor of Psychiatry at Harvard Medical School and often works with young adults.
Parents and teachers may have provided support for their needs in the past, but in the working world, young adults need to learn to be proactive in creating and asking for what they need, Dr. Surman says.
Entering the workplace when you have ADHD
One of the best ways to be ready for the working world is to experience it as part of an internship or a shadowing program. Some college and high school students will have the chance to intern as part of their academic programs; or they may have to find an internship in their field by conducting a search before graduation. Other young adults might find jobs in entry-level positions where they can learn skills to apply toward their careers.
Part of the goal of this early work experience is to learn what factors challenge you or support you in the workplace that may complicate the challenges presented by ADHD. Dr. Surman says this could be things such as learning to use calendars and planners, email reminders, knowing sources of distraction and how to avoid them, and learning when and how you can rely on other people for more help.
"If people have the experience of internships, they will have the chance to practice some of these things," he says. "If people know what kind of structures around them help them do their thing, they can be successful. You need to practice how you will adapt to an environment before you really get into it."
Planning your accommodations
The key in creating accommodations for yourself or requesting specific accommodations, he says, is to consider what is a reasonable accommodation for your employer to make for you.
"You cannot expect a change in your job description because you want them to make one," Dr. Surman says. "People will be let go from their jobs for the inability to fulfill their job description with reasonable accommodations."
Accommodations you can create for yourself:
Accommodations you may be able to request:

Headphones to block out distracting sounds and conversations
Calendar and email reminders for upcoming meetings or tasks
Finding a private coach to help plan your work and stay on task
A workplace friend who can proofread projects or emails before they are submitted
Schedule specific times in the day to respond to emails or return phone calls
Plan breaks in your day for movement to help manage hyperactivity and improve attention

Access to an unused conference room for a quiet place to work
Desk or workstation placement in quieter locations of the office, or with fewer distractions such as people walking in the hallways
Written directions from your supervisor or brief meetings to review work in progress, to help you stay on track
Ask your supervisor to help you set target dates and deadlines for projects
Request to be able to use a recording device or app during meetings, rather than rely on note-taking
A flexible work schedule
Should you disclose?
It's not always necessary to disclose a diagnosis of ADHD, Dr. Surman says. (For more on what to consider before disclosing a diagnosis, read Workplace Issues.)
Dr. Surman suggests that if you do decide to disclose your diagnosis and needs to human resources, that you ask what has been done for previous employees and if there is a written template or process. Taking a proactive approach is best, offering solutions to your challenges that are low or no cost to your employer, rather than looking to the employer to provide a solution to the problem. Sometimes it is necessary to collaborate with your supervisor or human resources to find a workable accommodation. Dr. Surman calls it "managing up"—know the likely answer to your request before you make it.
"If you are seen as a problem by your employer―one more thing they have to manage―it's not going to put you on their list of employees to advance," Dr. Surman says. "When you have solutions and a plan for how you can accommodate your employer's requirements while supporting your own needs, you're more likely to get what you need."
Finding the right workplace: Investigate and interview
After the internship or when you're ready to move on from your first job experience, Dr. Surman says a potential employee who has ADHD needs to be an investigator on his own behalf. Most companies have extensive information about themselves online. Often there are company reviews from former employees on job-seeking websites.
Being prepared for the interview is only part of the investigation, he says. During the interview, pay attention to the physical environment of the workplace. Pay attention to the employees: Do they seem happy? During the interview, be willing to ask what it is like to work with this company.
Dr. Surman suggests:
Talk about the strengths you can bring to the office, rather than any challenges you may have from ADHD
Share what you gained in knowledge or experience during any gaps in your resume or questions about lower grades
Ask about the office structure, who you would be working with and how your positions support one another. How is work shared among employees?
How are employees evaluated on their work? What milestones or targets do the employers look for when judging progress?
"Ask yourself if this environment will provide the right structure for me so I can shine and look good?" Dr. Surman says. "This is true for anyone seeking employment but there's a sensitivity for people with ADHD. If they have choices of environments, they might choose one that feels healthy to them, like what they've been in before."
Finding the right environment, one that supports your strengths while accommodating your challenges due to ADHD symptoms, can make a difference.
"I like people to know the conditions that overwhelm them and how to manage that," Dr. Surman says
Will I have enough to do, and enough variety of tasks, to avoid boredom?
Is the workstation arranged in a way that helps prevent distractions?
Is this a position that I can feel engaged in while doing my work? Does this interest me?
Will this workplace be accepting of my self-provided accommodations?
Ready to launch your career
You're in the door! Now what do you do? Dr. Surman says it's time to put your workplace plan in motion.
Some things you can do:
Know your company's handbook and be familiar with its human resources policies.
Present requests for accommodations in ways that show they will improve you work performance with no or minimal inconvenience to the employer and other employees.
Be familiar with workplace accommodation laws. You can learn more at Job Accommodation Network's page Accommodation Ideas for Learning Disabilities.
Get tips and suggestions from our fact sheet on Workplace Issues
Read Tips for Young Adults: Transitioning to College and Work for helpful suggestions.
What strategies helped you when you first started your career? What suggestions would you offer new employees?
Many young adults are starting their first job or a new career this time of year. What do you need to know about succeeding at work with ADHD?