You Never Registered for Remote Courses, But Now You're Taking Them
COVID-19 forced colleges and universities to close their campuses mid-semester. Here are some strategies to help college students with ADHD navigate the shift to online learning and finish their courses from home.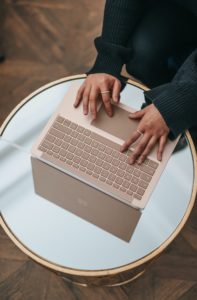 by Carey A. Heller, PsyD
Our daily lives have been filled with unexpected changes, uncertainty, fear, and major upheaval for the past month and a half. Many college students faced the additional stressors of having to transition to remote learning and move back home because of the novel coronavirus pandemic.
For a large percentage of college students, this shift was difficult academically, socially, and emotionally. Furthermore, students with ADHD, learning disabilities, or other documented disabilities, may have accommodations that were never designed to be used with remote learning.
Here are some basic strategies to help those who are navigating remote college courses (maybe for the first time) and the transition back home.
Set up a workspace that you use only for schoolwork and attending virtual classes.
If possible, use an extra bedroom, space in a basement, or other area that you wouldn't normally use for other things. If necessary, set up a desk or portion of your bedroom for this purpose, but try not to use the desk or study space in your bedroom when not doing work. Thus, avoid sitting at your desk to watch movies or play computer games.
Keep a clear record of your assignments and virtual class schedule.
If all classes list assignments in the same platform and that is sufficient for knowing what you have to do, use that. However, if some professors send assignments via email or you have to click around to lots of different places to see all of your assignments, it may be easier to record your assignments in a program such as MyHomework or My Study Life. Alternatively, you could choose to use a basic task list such as Google Tasks or Todoist.
Make a daily to-do list and plan.
Keeping in mind when assignments are due, look at your online class schedule and free times, and plan out which assignments you will work on and when you will work on them. It is important to write this down. You could enter the information in a homework app, put in a calendar on your computer or smartphone, or even write it on a whiteboard. Given that you likely know assignments at least a week or more ahead of time, you could create to-do lists several days in advance and adjust them as needed.
Reduce distractions.
Use programs like Freedom or Cold Turkey to block access to websites and computer programs that are distracting during class, schoolwork, or study time. Another option is to use Google Chrome extensions such as Dayboard or Forest to prevent access to off-task websites during work or class time. You may find it useful to block out external noises with a white noise machine or white noise app. Put your cell phone out of arm's reach during class or work time, and turn on the do-not-disturb mode during these times as well.
Contact the appropriate department at your college or university if you have accommodations and need additional supports due to classes being remote.
Obviously, the idea of remote classes was likely never considered when your accommodations were developed, so if you can identify specific supports that would be useful or things with which you need assistance, reach out for assistance. You may also find it useful to ask professors informally for supports you need during this time.
Keep in touch with friends.
Schedule virtual hangouts, study groups, and club meetings to maintain connections with your friends from college. Staying in touch with other friends and family is important as well.
Approach issues with parents or others at home directly.
Rather than waiting for conflicts to arise about staying up late, not doing work when your parents think you should, not cleaning up after yourself, or other similar potential issues, discuss the expectations on both sides and try to work out compromises. If needed, write down these expectations so you can refer back to them should conflicts arise.
WHILE YOU DID NOT ORIGINALLY PLAN to be taking remote classes from home, unfortunately, this is the current reality. If you try to make the best of the situation, it will help keep you in a better mood. Use the classes to stay connected to your college community. Try to make the most of the extra time at home, since this may be the last time you get this much time at once with your family. Also, you'll be well served by having the best sleeping and eating habits you can. But if you make mistakes along the way—which everyone who begins to navigate remote learning from home is bound to do—keep pushing forward and learn from your mistakes in a positive way.
Carey A. Heller, PsyD, is a licensed psychologist based in Maryland and an assistant clinical professor of clinical psychology at The George Washington University in Washington, DC. He specializes in the evaluation and treatment of ADHD and executive function issues. Learn more at hellerpsychologygroup.com. A board member for the Montgomery County chapter of CHADD, Dr. Heller also serves on the editorial advisory board for Attention magazine.