Webinar: Teaching Students Grit, Perseverance, and Frustration Tolerance
ADHD Weekly, September 19, 2019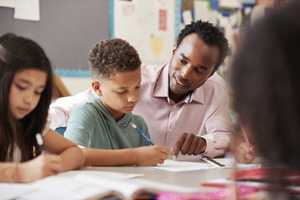 Ask The Expert Educator Highlight: Teaching Grit, Perseverance and Frustration Tolerance
To Students with ADHD
Featuring Cindy Goldrich EdM, ACAC

Your students learn through direct instruction and opportunities to practice the information, as well as time and repeated efforts. However, the ability of students to succeed academically does not solely rely on curriculum. The ability to regulate emotional and cognitive impulses plays an important role in a student's ability to succeed academically.
In this Ask the Expert Educator Highlight, you can learn strategies to build on students' strengths, praise with impact, and teach self-motivation. Teaching these and other social emotional learning tools will allow you to help students develop their ability to sustain their focus, manage their frustration, and persevere to achieve their goals.
Cindy Goldrich, EdM, ACAC, is an ADHD coach, teacher trainer and parenting specialist. She specializes in providing education, coaching and support for educators, parents, and mental health professionals to help children with ADHD and Executive Function Deficits succeed at home, in school, and in life. She is the creator of the nationally offered Calm and Connected workshop series for parents of children with ADHD and the author of 8 Keys to Parenting Children with ADHD.