Webinar: Video Games and ADHD: Harmful or Helpful?
Midwest CHADD Regional Center Webinar:
Video Games and ADHD: Harmful or Helpful?
Thursday, Oct. 12 | 7 PM ET
Featuring Randy Kulman, PhD

Randy Kulman, PhD, will explore how kids with ADHD are affected by their video game play. It will examine how and why video games can become overly engaging for kids with ADHD yet at the same time present opportunities for improving executive functions and problem-solving skills.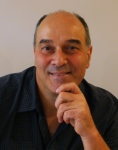 Dr. Kulman is the founder and president of LearningWorks for Kids. As a licensed clinical child psychologist, Dr. Kulman has been working directly with kids and families for the past thirty years and has become a leading expert on the use of digital technologies for improving thinking skills in children.
Dr. Kulman became interested in the use of video games for teaching thinking skills through his clinical work with children and families. After listening to hundreds of children and parents reporting how engaged kids were in their video game experiences, he began researching methods by which video games could be helpful to children.