Suddenly Working from Home
CHADD Staff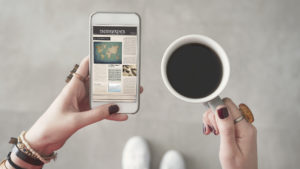 This week began with schools across the country sending their students home for weeks, along with colleges and universities announcing all courses had been moved to online instruction. Many businesses followed, sending their employees to work from home. By the end of the week, state governors were instructing most businesses to either send all employees home or allow only a small number of people to work onsite.
Are you among this increasing group of employees who suddenly find themselves working from home? For adults with ADHD, working from home can be difficult because of the lack of routine, changes in communication with your colleagues, and increased distractions from family members and pets.
We hope to alleviate some of the difficulties of adjusting to this change in our daily lives. So, we gathered some "best tips and hacks" from people who regularly telecommute. This is just a start. We'd love to hear from you—especially those of you who are parents and now juggle the needs of your children and your job.
We are here for you and we promise to produce updates as we all journey into the new normal. We hope these suggestions can help you get started.
Set Up Your Work Space
• Find a quiet place, if possible, and set it aside as a specific place to work.
• Choose a designated working space. Keep it tidy!
Create a Schedule and Routines
• Work the same hours as you would at your office. It's best to main a steady schedule.
• Schedule blocks of time for work, meetings, breaks, and meals or snacks.
• Set and keep boundaries around your time for each activity. Avoid multitasking.
• Avoid working in your pajamas. Dress like you're ready to meet people, even if only on camera. Feeling professional will help your productivity.
• It's best to log into virtual meetings approximately 15 minutes ahead of time. Mute the microphone and disable video until it's go-time.
• Take a lunch break. A short walk after your meal can help you focus again.
• Prepare meals or snacks either at the beginning of the week or the night before. This will help to keep you from eating junk and being frustrated.
Make (Realistic) To-Do Lists
• Create a daily and weekly to-do lists to stay on track. Update them at the end of each work day.
• Each day, make a list of what you hope to accomplish that day.
• Divide the list into doable pieces.
• Use whatever format works for you, paper or digital. Keep it close by your computer.
Breaks Are Important!
• Schedule your breaks.
• Schedule 30 minutes for movement—yoga, walking, or another exercise—before you start your workday. (Think of it as the commute you aren't doing.)
• Schedule at least one other short break after lunch to get outside—even if it's only for a few minutes. Breathe!
Minimize Distractions
• Remove the things that will distract you the most. This may also include keeping children and pets out of your work space.
• Turn the ring tone off on your phone, if possible. If not, place it behind you and out of sight.
• Ask your family and good friends not to call you during work hours unless there is an emergency.