CHADD Names 2016 Young Scientist Award Winners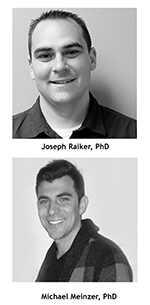 CHADD encourages ongoing research into the various fields of ADHD, including treatment, brain development and social development. With the announcement of the 2016 Young Scientist Award winners, it continues to encourage researchers to pursue new avenues of understanding in ADHD.
Several outstanding applications were received this year, and two winners were selected by CHADD's Professional Advisory Board reviewers. The winners will receive $1,000 along with recognition in November at CHADD's Annual International Conference on ADHD in Costa Mesa, Calif. Awardees also receive professional membership in CHADD.
2016 Awardees:
Joseph Raiker, PhD, is an assistant professor in the Department of Psychology and Director of the Program for Attention, Learning, and Memory at Florida International University. Dr. Raiker's research study title is The implications of cognitive deficits for improving treatment response in children with ADHD.
Michael Meinzer, PhD, just completed his doctoral training at Florida International University and is currently a postdoctoral fellow at the University of Maryland. Dr. Meinzer's research title is Development and open trial of a depression preventive intervention for adolescents with ADHD.
Applicants for the Young Scientist Award are evaluated and scored on their research studies records, publications, recommendations from their professors, and planned future contributions. Their submitted research studies are evaluated on significance, rigor of methodology-design, clarity of the problem, relevance/adequacy of literature review, and contribution of new knowledge. The professional advisory board reviewers also included an overall impression score.
Read more about the awardees and their research.