Visualize a Good Start to the School Year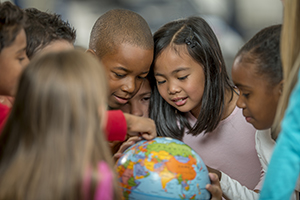 Fall is here, and school buses and safety patrols will soon be in sight. Many students have already climbed on board their buses to start the new school year. At the National Resource Center, we want to help you and your children get off on the right foot. Here are some tips for getting your child in the right mindset for a fresh start this year.
You play an important part in your child's before and after school experience. This year keep in mind three words as tools to help with the transition from summer to back-to-school:
Verbal
Visual
Organization
Verbal: Talk with your children about the new school year. Listen to their thoughts and what they have to say. This will help you to better understand their hopes and fears for the coming school year and be supportive of them before school begins. Jazz your children up about going back to school by asking them what they are excited about and simple things, such as what they would like to take for lunch on their first day. Have many back-to-school conversations in the days leading up to the start of school as a way to prepare your children for the upcoming change. Positive reminders of what they can look forward to at school are important and can make a difference on the first day of school.
Visual: Think about things that you would like your children to do before and after school. Visualize those experiences and write your ideas down. Ask your children if they would like to add something to the list. Be sure to include breaks and mealtime on your list. Next, work together to create a picture or lists that will be a daily reminder of these tasks for your children. A behavioral chart with stickers or a token system will motivate young children to stay on task. They will look forward to a prize or reward for their good behavior or completion of tasks. Remember, visual and verbal reminders are equally important.
Organization: Decide with your children where they will keep lunch boxes, backpacks, homework materials, and coats before and after school. Figure out an area for your children to do homework, such as a desk in the living room, and have separate folders and notebooks for different subjects. Before deciding on what system works best for your family, make sure your system meets the needs of your children and work together to help create it. Organization is a tool that helps children with ADHD who need structure.
These are only a few tips for you and your child. For more information on ADHD for parents and caregivers, please visit our information especially for parents and caregivers. We wish you the best this school year and look forward to your questions on Attention Connection.