Planning to Get Organized? Get Tips That Can Help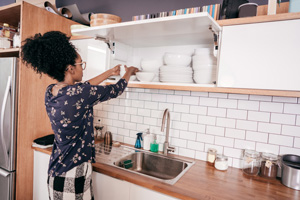 The first week of the new year is a popular time for resolutions, which often include plans to become more organized. But in a month will you still follow the systems you create?
"Everybody might need something different," says Holly Hitchcock Graff, a certified professional organizer. "The number one thing is to keep it simple. Organizing needs to be easy and simple."
ADHD doesn't have to mean clutter
Ari Tuckman, PsyD, MBA, often works with adults with ADHD to help them address difficulties with organization. His first suggestion is to picture in your mind what it is you want to organize—a closet, the kitchen, a home office—and then imagine how and where you want items to be placed in that location.
"Once you've conceptualized your grand organizational system, you need to kick yourself into gear to put things away and then follow it through to the end, even when you're tired of doing it," he says.
The trick is to make the most of your executive functions, he says, including working memory, prospective memory (or the mental to-do list), and self-activation.
"The better you understand the executive functions, the better you understand ADHD—and the better position you will be in to create more effective habits," he says.
Practical ideas for paper clutter
The first challenge for many people is paper. Professional organizer Kacy Paide specializes in organizing the flood of papers that families face throughout the year.
"My clients are sometimes surprised (and always relieved) that I encourage them to ditch the filing cabinet and think way outside of the box," she says. "How do you keep a clear desk when you lose anything that is in a cabinet or drawer?"
Ms. Paide's suggestions include:
Use clipboards for active projects. Clipboards are a wonderfully visual way to organize active projects. They allow you to be splashy—within boundaries. These are especially helpful in organizing writing projects, upcoming trips and events, bills to pay, and more. Use them also as idea buckets, assigning one per project, collecting all related media—be it note scraps, sticky notes, tear-outs, or printouts.
Fill the desk with file folders. If you're out-of-sight-out-of-mind, the only hope your folders have for seeing the light of day is to keep them at eye level and not hidden under a lid. This works especially well for paper-heavy current projects that you pull from or add to frequently.
Turn your bookcase into an open filing system. Use file boxes on your bookcase shelves. Boxes encourage you to create tight categories, drawing lines in the sand in a way that a deep file drawer can't do. Shelves allow you to see all categories at a quick glance, taking the mystery out of what lurks in your file drawers.
File on the wall. Use wall pockets just as you would file boxes. If one works, five or ten might work even better. Better to have pockets than art if that means your desk and head are clear as a trade-off.
—From Make Peace with Paper, Even if You Hate Filing
Simplify your environment
"The shortest route to efficiency is reduction," says Susan Pinsky, a professional organizer who specializes in ADHD and chronic disorganization.
Take a look at the area of your home you want to be more organized, she says. How much can you pack away or throw away? What items do you enjoy and which are collecting dust? Having just enough dishes to fill a dishwasher or sink or outfits to fit comfortable in a closet or laundry basket can make a big difference in home organization.
"Your goal is that you should be able to pick up any room in your [home] in under a minute," she says.
Looking for suggestions before you get started?
Join the discussion: What are your favorite organizing tips?