Supporting your child's religious education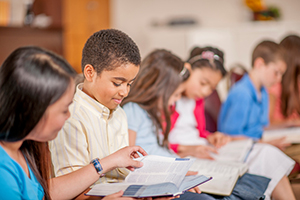 Schools have let out for the holiday season. If your family belongs to a house of worship, this might also include a seasonal break for your children's religious education programs.
The same difficulties your child diagnosed with ADHD struggles with during the school day can follow her into the religious education program you've selected. Unlike the public school, the teachers in your child's program are often lay volunteers who don't have formal training in education. Educational programs sponsored by houses of worship are not included in the educational laws that govern 504 Plans or IEPs. So what can you do in January to help your child be successful in religious education classes?
Jennifer Laszlo Mizrahi has suggestions for families affected by ADHD and other disabilities. She's the president of RespectAbility, an organization that advocates for individuals affected by disabilities by working to reduce stigma and see great inclusion of people with disabilities in the workplace, faith-based organizations, and in media entertainment.
"When it comes to ADHD and inclusion issues, despite good intentions, many religious institutions don't even know what they don't know," Ms. Laszlo Mizrahi writes in Religious Education and Children with ADHD for CHADD's Attention magazine. "So it is up to people with ADHD, and the people who love them, to educate and advocate for people with ADHD in religious life. It is especially true in the context of enabling children with ADHD to have full access to religious education."
Too often children affected by ADHD or other disabilities are asked to leave religious education programs rather than have program leaders look for solutions to enable them to remain. Parents, she says, have a role they can play to help their children and program leaders.
"You need to sit face-to-face with the actual person who will be in the classroom with your child, as well as the school leaders who support that teacher," she says. "Invite the clergy to the meeting as well. Part of the meeting should address why being able to come as a family to your congregation is important to all of you."
Ms. Laszlo Mizrahi offers parents some tips to help your child have a good experience in religious education classes:
Find out if there is a congregation in your area with real experience and success in working with children affected by ADHD. Ask if you can talk with those congregation members about their experiences.
Request a meeting with your child's religious education teacher and team. You might also ask the congregation leaders to join you for that meeting.
Familiarize yourself with the other professionals in your congregation. Find out how they can help your child to have a positive experience.
Share your enthusiasm for religion with your child. Take part in the traditions important to your religious community and explain to your child the importance of those traditions.
"Talk with your child about what he or she will be learning during the year and why it is important to you," Ms. Laszlo Mizrahi tells parents. "Celebrate religious holidays and practices at home and show that it matters to you, as well. Walk the walk. Let your child know that you have confidence in his or her ability to master the content, and that you believe it will be a positive part of their life."
Read Religious Education and Children with ADHD for more tips on helping your child have a good religious education experience.
Is your child attending a religious education program? What has helped you pass your religious traditions along to your children?