SMARTS: Creating a Culture of Executive Function Strategy Users
Mark Katz, PhD
Attention Magazine August 2018
Download PDF
IMAGINE MIDDLE AND HIGH SCHOOL TEACHERS teaming up with their students to create a culture that values, celebrates, and continually reinforces the use of executive function strategies not only to do better in school, but also to do better in life. It would be a dream come true for kids with ADHD and other learning differences, who so often experience executive function challenges– not to mention their parents, who spend a good chunk of time helping their kids navigate through school.
Lynn Meltzer, PhD, and a team of colleagues at the Research Institute of Learning and Development (ResearchILD) have been working very hard to turn that very dream into reality. And they're closer than ever to making it happen, thanks in large part to an online curriculum they've developed known as SMARTS (Success, Motivation, Awareness, Resilience, Talents, Success).
SMARTS is a user-friendly, strengths-based curriculum comprised of thirty executive function (EF) strategy lessons targeting five areas under the executive function umbrella:
● cognitive flexibility–the ability to think flexibly and shift focus
● goal setting–the ability to set realistic goals and a step by step plan for achieving them
● organization and prioritizing–knowing how to manage and prioritize day-to-day school responsibilities such as completing assignments when due and turning in completed homework
● accessing working memory–learning to access information efficiently
● self-monitoring and self-checking–"Am I on task right now"; "How can I readjust my strategies to get back on task"; "Have I re-checked my test responses."
Beyond its many comprehensive lesson plans, SMARTS aims to create a culture in which teachers and students see the value of using EF strategies to reach goals and solve problems. Walk into a ResearchILD-trained SMARTS classroom and you're likely to see EF strategies visually displayed on classroom walls. You'll see and hear teachers model and explain strategies they're using in response to different tasks and activities, as well as verbalize strategies they're revising when initial ones fail to achieve desired outcomes. Through reflection sheets and other tools, you'll also observe students learning to do the same.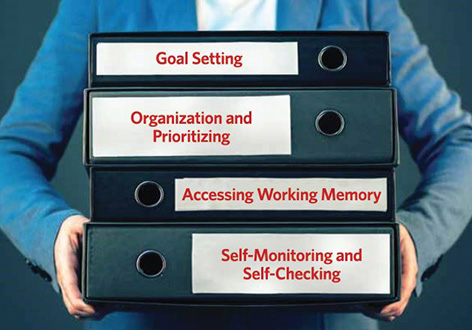 It's a culture that recognizes the benefits derived when we spend more time thinking about our thinking, a process known as metacognition. For some students, these metacognitive prompts and self-reflections seem a waste of time at first. But eventually they see how thinking about and effectively using EF strategies allows them to perform far more successfully on tests, on projects, and on so many other tasks. And considering that we rely on executive function throughout our entire day, students also eventually realize that EF strategies not only help us do better in school. They also help us do better in life.
Seeing EF strategies anew
According to Michael Greschler, MEd, the director of SMARTS, it's surprising how many students with EF challenges remain unaware of the nature of these challenges, or that they can be strengthened or overcome if they learn to master specific strategies. Says Greschler, "In designing our curriculum, we wanted to think beyond lesson plans and first and foremost make sure that students with executive function challenges learn the meaning of executive function, and how through repeated practice of effective strategies, students' performance on academic tasks with a high executive function demand can grow stronger."
The SMARTS curriculum includes PowerPoint presentations and handouts to support EF strategy lessons, SMARTS training videos and other training materials, and strategy reflection sheets to extend student learning. SMARTS also includes access to student and teacher surveys for assessing various aspects of executive function. Known as MetaCog, these measures assess how students perceive their EF strategy use, how they rate their own effort, persistence, and motivation, and how their teachers rate their students' levels of effort, persistence, and motivation.
SMARTS relies heavily on direct, explicit instruction when teaching EF strategies, as well as repeated practice. Lessons also focus heavily on ways to generalize strategies to different academic tasks, as well as to other day-to-day responsibilities in and out of school.
When last highlighted in Attention (December 2014), SMARTS had not yet been rolled out nationally. To date, it's currently being used by schools in 44 states and 14 countries. Interest in the program also continues to grow nationally and internationally.
SMARTS is currently being implemented in a variety of different settings, including general and special education classrooms and therapeutic treatment programs. The SMARTS team also provides different training options for schools and programs who plan to implement the program. While not all SMARTS sites have taken advantage of these training options, doing so increases the likelihood that the program will be implemented with fidelity.
While SMARTS has only been available for a few years now, the SMARTS team notes that feedback from users of the program has been very positive. Says Dr. Meltzer, "Our findings have shown that when teachers integrate SMARTS EF strategies into the classroom curriculum, they provide students the foundation for stronger effort, positive self-concept, persistence, and resilience, the foundations of academic and life success."
Visit https://smarts-ef.org for information about training opportunities for teachers or others wishing to implement the program, as well as program costs. You can also view an actual SMARTS lesson plan at no charge.
Dr. Meltzer will speak at the Annual International Conference on ADHD in St. Louis in November 2018 and will also participate in the Innovative Program Session. SMARTS has been chosen as the recipient of CHADD's 2018 Innovative Program of the Year Award.
SMARTS for Elementary School
The SMARTS team is about to pilot a new SMARTS curriculum for students grades 2-5. They hope to have the program available for purchase within the next couple of years.
SMARTS Peer Mentoring Model
The SMARTS team has also developed a peer mentoring model, where middle and high school students mentor fellow students on how to effectively use a variety of different EF strategies. The team hopes to secure additional funding in order to further refine the model, and to make it available to schools nationally and internationally.
The Institutes for Learning and Development
The Research Institute for Learning and Development (ResearchILD) and the Institute of Learning and Development (ILD) are sister organizations with a common mission: To transform the lives of children, adolescents, and adults who struggle with learning differences. Together, they comprise the Institutes for Learning and Development. ResearchILD focuses on research, development of mentoring and leadership programs for schools, publications of books and software, professional development for teachers, and scholarship support for educational services. ILD provides psychological, speech, language, and educational services that transform the lives of one student at a time. The inter-relationship between theory, research, and practice informs the work of both Institutes.
A clinical and consulting psychologist, Mark Katz, PhD, is the director of Learning Development Services, an educational, psychological, and neuropsychological center in San Diego, California. As a contributing editor to Attention magazine, he writes the Promising Practices column and serves on the editorial advisory board. He is also a former member of CHADD's professional advisory board and a recipient of the CHADD Hall of Fame Award.