Entering College with ADHD
Michael Gerton
Attention Magazine August 2018
Download PDF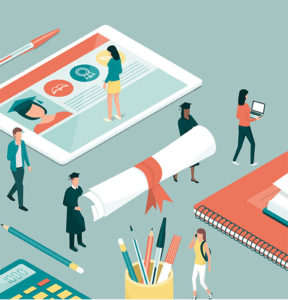 FOR HIGH SCHOOL STUDENTS diagnosed with ADHD, reaching graduation day can feel like meandering across the finish line of a marathon. Years of hunting effective strategies for executive functioning, organization, and testing culminate in a brief yet triumphant walk across the stage. As proud (and, perhaps, exhausted) families snap photos, they often wonder and worry about what the future holds. For many students, college comes next.
Data from the Higher Education Research Institute at UCLA shows that, among 137,456 first-time, full-time students who entered 184 US colleges and universities of varying selectivity and type in the fall of 2016, 6.5 percent reported being diagnosed with ADHD. Many of those individuals received special education supports and services under an Individualized Education Program (IEP) during middle or high school in order to ensure they were accessing their curricula and receiving a "free appropriate public education."
While the protections of the Individuals with Disabilities Education Act (IDEA) disappear for students with ADHD upon high school graduation, the challenges associated with the disorder certainly do not. Therefore, students entering residential colleges, community colleges, and technical colleges may experience a more complicated path to acquiring necessary services once they arrive on campus. Fortunately, they can turn to federal statutes–Section 504 of the Rehabilitation Act and Title II of the Americans with Disabilities Act–to help obtain their necessary accommodations.
Becoming their own primary advocates
Under federal law, individuals with any physical or mental impairment that "substantially limits one or more major life activities" cannot be "excluded from the participation in, be denied the benefits of, or be subjected to discrimination under any program or activity receiving federal financial assistance." Because virtually every public and private college or university in the country accepts some form of federal funding, postsecondary students with ADHD may be entitled to appropriate academic adjustments and auxiliary aids via Section 504 and the ADA even though they are no longer eligible for an IEP.
At the higher education level, however, parents are replaced by students as primary advocates. No longer is it a school's responsibility to identify, evaluate, place, and develop programming for their student population. Therefore, college and university students with ADHD must fight the temptation to believe supports and accommodations are no longer necessary or acceptable and pursue them as early as possible.
First stop on campus for an individual with ADHD is the institution's disability support center. Be forewarned: All centers are not alike. Some offer a continuum of comprehensive services while others barely provide cursory assistance, inviting failure to thrive. Prior to receiving academic adjustments or modifications, a student must provide the disability support office with adequate notice that the accommodations are necessary. That obligation is typically satisfied by informing the school of the ADHD diagnosis and identifying the requested accommodations.
In addition, the institution may request copies of medical, psychological, or educational diagnostic testing that support the existence of the ADHD and need for the requested supports. Each school may have different requirements regarding the recency of testing, so students should contact the disability support office early in the summer to ensure that their latest reports are calendar compliant. For individuals who first discover they have ADHD while in college, a history of accommodations may not be required in order to establish the existence of a disability.
Postsecondary accommodations
Before a postsecondary institution will approve an accommodation, the accommodation must be determined to be both necessary and "reasonable." An accommodation is reasonable so long as it does not pose a direct threat to the health or safety of others, result in a substantial change in an essential element of the curriculum or substantial alteration in the manner in which a service is provided, or create an undue financial or administrative burden for the institution.
While there exists no exhaustive or official list of reasonable and unreasonable adjustments in higher education, some commonly approved accommodations for individuals with executive functioning deficits include extended time on assignments and exams, access to a note taker or scribe, access to audio/video recordings of class lectures, reduced distraction seating for classes and exams, excused class tardiness or attendance, and priority registration.
Sometimes students with ADHD understand that a good night's sleep is often a good start to a good day. For them, dormitory/housing accommodations may be appropriate. Be it a "quiet" dorm, substance-free housing, or extra help selecting a suitable roommate, students with supporting documentation should feel free to pursue that modification. Making contact with residential life officials should take place well in advance of move-in days.
For college students with ADHD, learning to initiate effective self-advocacy is knowing when to ask for help.
Scholars receiving pushback from a disability support office concerning a particular request should be prepared to further support their position with appropriate documentation, such as past IEPs or 504 Plans that included the desired accommodation as well as a letter from a former educator or mental health professional who can attest to the student's need for the support and how he or she benefited from it. While "to whom it may concern" letters are the more ubiquitous format, correspondence addressed to a specific school and staff member can serve as a small touch that humanizes the student and reinforces their unique challenges and needs. If those methods prove unsuccessful, students should consider consulting legal counsel to better understand the scope and limits of their rights.
For students who encounter charges under an institution's academic or disciplinary code after arriving on campus, the stakes are heightened, particularly when suspension, expulsion, and even criminal penalties are on the table. In these instances, an experienced education attorney can assist with navigating the school's judicial process, such as preparing for hearings and appeals, as well as advise on potential discrimination-based violations or liability. In the confusion of challenging moments, students with ADHD, who may have a history of issues regarding self-regulation and impulse control, can benefit from relying on the help of others.
Michael S. Gerton, Esq, is an education attorney in Rockville, Maryland, where his practice focuses on enforcing the rights of students in school discipline and special education matters across all levels and age groups. He is licensed to practice in Maryland and the District of Columbia and can be reached at michael.gerton@bkgpc.com or @GertonLaw on Twitter.