Chris A. Ziegler Dendy, ADHD Advocate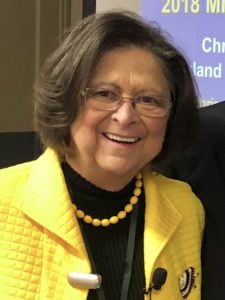 It is with sadness that we share the passing of Chris A. Ziegler Dendy, a longtime CHADD volunteer and co-founder of CHADD's Teacher to Teacher training program.
Chris Dendy received CHADD's Lifetime Achievement Award in 2014 and Hall of Fame award in 2006. She was a popular author on ADHD who contributed many articles to CHADD's Attention magazine, a former educator, school psychologist, and children's mental health professional. She and her late husband Tommy provided training on ADHD to parents and professionals nationally and internationally. Additionally, she was a consistent presenter at the Annual International Conference on ADHD where many members of the ADHD community were able to learn from her.
She authored five highly respected books, including Teenagers with ADD & ADHD and Teaching Teens with ADD, ADHD & Executive Function Deficits, two videos, and the popular ADHD iceberg poster. She coauthored A Bird's-Eye View of Life with ADD and ADHD: Advice from young survivors with her son Alex Zeigler, who was the inspiration for her work in this field. She was the coauthor, with former CHADD CEO Ruth Hughes, of Launching into Young Adulthood with ADHD… Ready or Not and the forthcoming Successfully Launching into Young Adulthood with ADHD: Firsthand Guidance for Parents and Educators Supporting Children with Neurodevelopmental Differences.
A beloved mother, sister, and grandmother, an inspiring mentor, colleague, and friend,
She leaves a huge hole in the hearts of her family and many friends. She will be missed, yet her legacy will live on through the tremendous impact she has had on so many lives.
Chris Dendy is survived by her two sons, Alex Zeigler (Haley), and Steven Dendy (Sandra), her daughter Audrey Dendy Grabowski (Jay), five grandchildren: Nathan and Ashley Grabowski, Hunter and Emily Dendy, and Tatum Moore, and two great-grandchildren. In addition, she is survived by her two sisters, Vicki Abney Ragsdale (Gaut), Billie Abney, close family friend Sara Clark, and several cousins.
She was preceded in death by her parents and beloved husband, Robert Thomas "Tommy" Dendy.
The memorial service will be livestreamed Saturday, July 29, at 11 ET (12 PM CT) through her Facebook page, Facebook.com/ChrisAZDendy. Her family invites friends and members of the ADHD community to share the virtual event as they remember and celebrate Chris Dendy.
In lieu of flowers, the family asks that donations be made in memory of Chris Dendy to CHADD, along with additional organizations listed at Chris A. Zeigler Dendy Consulting.
Chris Dendy will be greatly missed by many in the ADHD community. She will be fondly remembered with gratitude for all she has done to help so many people. CHADD looks forward to honoring her in myriad ways in the coming months, including a tribute article in the October edition of Attention magazine and at the 2023 International Conference on ADHD in late November. We look forward to honoring Chris Dendy's amazing life with our ADHD community friends and colleagues.