Ask the Expert: Using Behavioral Management to Improve Sibling Relationships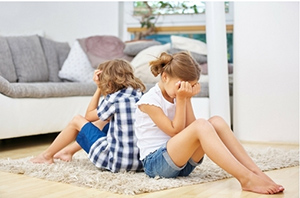 Featuring Jennifer Keluskar, PhD
Thursday, Nov. 16, 1 p.m. ET
Many of the strategies used to help children affected by ADHD manage their behavior can also be helpful for their neurotypical siblings. But their needs, based on ADHD symptoms, can place additional stresses on their parents and families. Learning new strategies for helping children to improve their emotional and behavioral regulation can help create happier relationships for your family members.
Join us to learn about:
The role of emotional and behavioral regulation in ADHD and how it affects children with ADHD and their families.
The similarities in strategies for parenting children with ADHD and their neurotypical siblings.
What to do about sibling rivalry and poor behaviors between.
Exploring the use of mindfulness skills for improving emotion regulation in children with ADHD, their siblings, and their parents.
Jennifer Keluskar, PhD, is a clinical psychologist at Stony Brook School of Medicine Department of Psychiatry. Her areas of specialization include autism spectrum disorders and other developmental disabilities, anxiety disorders, and behavior management for ADHD in children. She focuses on strengthening a child's coping skills through specific, skills-based interventions that are practical, efficient, and can be used to improve their functioning at school, home, and in the community.
Are you worried about sibling rivalry and how ADHD could be making it worse? Join us for a special Ask the Expert webinar to learn how to improve your children's behavior, regardless of who has ADHD and who does not, and how to create a happier family environment.