Try the ADHD Calculator of Traits!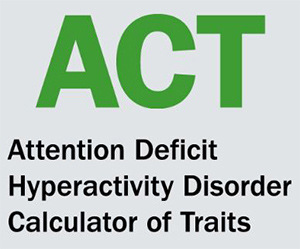 ACT is based on the Strengths and Weaknesses of ADHD Symptoms and Normal Behaviour Rating Scale (SWAN) questionnaire. It asks parents to rate their child or teens to rate themselves on ADHD traits, from strength to weakness. A person's scores are then compared to the scores of more than 17,000 children and teens who participated in a study by researchers at the Hospital for Sick Children in Toronto, Canada.
You can rate yourself if you are 13 to 17 years old and you can use the ACT to rate someone you know, like a child, friend, patient, or student if they are 6 to 14 years old.
If you try out ACT, you will quickly be able to see how you or your child compares to age and gender matched peers. It's like an IQ test for ADHD. You can print the report and show it to your doctor or your child's doctor, or you can save it to see how things change when you do the questionnaire again at a later date. The Hospital for Sick Children is also interested in what you think of this questionnaire and is looking for your feedback.
Researchers are keeping track of how many people use the ACT, but are not keeping the scores. It's confidential and free. CHADD and the National Resource Center on ADHD are not part of the program and will not receive any information from ACT. A diagnosis requires an assessment by a trained professional. This trait checker does not make a diagnosis.
Ever wonder how your child compares to his or her peers when it comes to ADHD traits? Try the ADHD Calculator of Traits (ACT) to find out. It's a free, valid and useful tool for rapid assessment of ADHD traits. Learn more and try ACT now.