Holiday Meal Planning? You Can Do That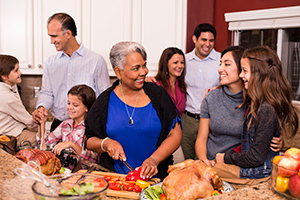 With Halloween just over, we've begun the holiday season. The next two months are filled with family gatherings and traditional foods for most people. But if you're coping with ADHD and you're the holiday cook, how do you get ready for an upcoming feast?
"Meal planning has always been one of the most challenging problems I've faced as a mom with ADHD," says Terry Matlen, ACSW, a therapist and coach who works with women affected by ADHD.
She remembers, during an Ask the Expert webinar, having a group of family and friends visiting from out of town on Thanksgiving. The thought of preparing dinner for so many people was just overwhelming, she says.
"I knew I couldn't manage cooking for everyone," Ms. Matlen says, "so I talked to my family and we all agreed that the importance of the holiday was not the food, not the decorations; it was about being together as a family. So, I went out an hour before dinner and picked up all the food at a local restaurant!"
When ADHD symptoms go to the grocery store
Preparing for the big event can be frustrating when the symptoms of ADHD―inattention, difficulty organizing, poor time management, and impulsivity—start intruding on the process.
Stacey Turis, who has ADHD, shared with the readers of CHADD's Attention magazine the Christmas dinner following the death of her grandmother, when she volunteered to prepare the family feast. Her first thought was to prepare the dinner by herself, but good friends instead ordered a pre-made holiday dinner from the local grocery store for her family.
"I decided to attack the more creative dishes my gourmet-chef-of-a-mom had added to the holiday menu over the years," Ms. Turis says. Except the creative dishes led to 14 trips to the grocery store (at least once because she forgot to turn the shopping list over to the items on the other side of the paper) and a grocery bill that wasn't in her budget. The multiple trips and dent in the bank account came to her husband's attention. Ms. Turis said the experience left her feeling foolish for not paying attention and for poor money and time management. And then, in the end, the family dog got to the special dishes before they could be set on the holiday table!
"The moral of the story?" Ms. Turis notes. "Holidays are like the four-cheese macaroni dish. You can glam it up however you want, but at the end of the day the simple, original ingredients are what make it truly special."
Making holiday meal plans
The symptoms of inattention, difficulty organizing, poor time management, and impulsivity are part of adult ADHD. When it comes to making plans for a large gathering focused on a special meal, they can interfere with the planning process and leave you feeling rushed, forgetful, and even embarrassed by the end of the meal.
The daily online food magazine The Kitchn has tips that can help you be ready for the big meal and a more relaxed holiday event:
Use your calendar.
Especially when you are struggling with time management, plotting out your work on a calendar can help you coach yourself through the many steps of holiday meal planning and preparation. This includes time preparing the dining room and setting the table. As you get closer to the day of your family meal (Thanksgiving, for example) block out a few days ahead to prepare some of the side dishes that can hold in the refrigerator or plan to bake the weekend before rather than the evening before your dinner.
Don't forget a shopping list.
Don't rely on your memory or even quickly written notes about what to buy. Write up a shopping list—with the note to check the other side—before heading out to the grocery store. Create headings for each dish you plan to make and then list the ingredients for each heading (for example write apple pie, and list the ingredients you need: apples, pie crust (2), aluminum pie plate, apple pie spice, flour). Check your pantry to see what ingredients you may already have, and cross those off. If you have a budget to stick with, write your budgeted amount on the paper where you can keep the information in front of you.
And then, make a back-up copy. Since shopping lists can easily be misplaced, take photos of both sides of your list with your smart phone to be sure you have a copy handy.
Prep dinner components.
It's tempting to think, "I have to make all of the dinner now." Instead, break up your steps (the calendar can help!) and do one thing at a time. Right now, just make the green bean side dish. Later, you can prepare the make-ahead mashed potatoes. Instead of the entire salad, just cut up and mix the vegetable toppings and stash them in a container until it's time to put them on a bag of pre-washed lettuce or other greens.
Delegate and outsource what you can
Involve your family in preparations; they will feel "ownership" of the day. Give your kids and/or partner well-defined, tasks such as cleaning the dining room, setting the table, arranging flowers, writing name cards for each guest's place setting―but one task at a time. Keep a list of dinner items and ask friends or family to make one of those dishes and bring it with them. You can also order your big meal ahead, like Ms. Turis' friends did for her, and add one or two signature dishes or desserts. Find a great bakery and let its bakers fix the perfect dessert for you. Instead of "chef" for the big meal, consider yourself the "coordinator" and work from that point of view.
Keep things simple.
"You've already got a lot on your plate, so this isn't the time to make fancy dinners or experiment with new, complicated recipes," says Kitchn writer Kelli Foster. "Keep meals simple, quick, and easy."
(Adapted from 10 Tips for Better Meal Planning During the Holidays)
Tools to help you plan
You talked with your family and checked your pantry. Now it's time to make your plan. We took a look at a few tools that can help with planning:
Online grocery shopping can be both a time and a budget saver. Check with your favorite grocery store for its online shopping service. Or check out Instacart online or as an app in Google Play or the iStore. Delivery and membership fees do apply here, delivery is not a free service, so be sure to add these costs to your budget. Not liking Instacart? Keep looking through your app store, as there are several other grocery delivery services that may be a better fit for your needs.
Enjoy your holiday meal
Using some of the tips and tools above can help ease the pressure you may feel from your own expectations. You can have a special holiday meal that honors your family's traditions. Just remember to breathe, enjoy the day, enjoy family, and if everything doesn't go as planned, laugh. It doesn't matter. What matters is you, your family, and friends.
Looking for more?
Join the discussion: What is your plan for a delicious holiday season?